I'm betting most marketers can identify with the plight of the Swiss Army knife. You have to be multiple things at once in order to accomplish a mountain of marketing goals. You have to increase the high-quality blog output with no budget or headcount. Plus, if you do it well, you are expected to do it even more! It's a thankless job, but ChatSpot can help you scale up your output without sacrificing bandwidth. In this post, you'll learn how to leverage ChatSpot to:
Keyword Research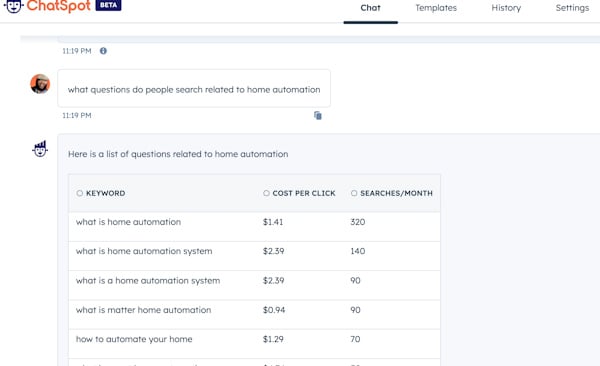 This is the most critical - and time consuming - part of your process. This is where you find your content ideas, and possibly discover new ones! If you do it well, you will have no problem generating quality content.
After navigating to ChatSpot.ai, head over to Templates, select Marketing, then select Keyword Phrases. In my example, I used "Smart Homes" as a topic. Not only did it generate a list of questions that are asked around my topic, but it generated CPCs and search volume. Not only will this give you insights on how competitive the key phrases are, but it will also let you know how valuable some of the long-tail keywords are. (Check out the "how to make your home a smart home" search to cost ratio!)
Pro Tip: Don't lose the forest for the trees. Check out variations and alternate terminology to drill down on what works for you, (i.e. smart home vs home automation.)
Related Keywords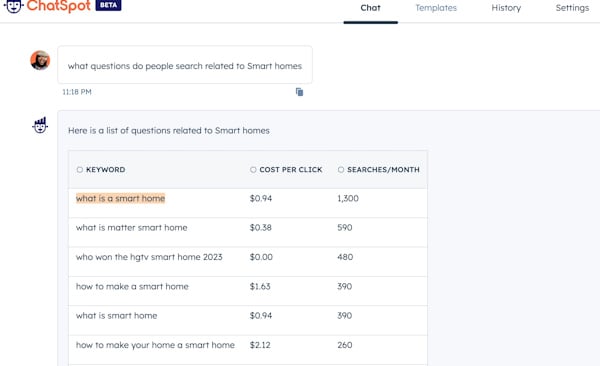 Highlight and copy a key phrase of your choice, and go back to Templates, select Marketing, then select Related Keywords. Paste your key phrase and evaluate these keyphrases, seeing if it makes sense to use one of them as a variation of your original search, or if you should possibly include them as a part of your blog post. I noticed a theme in the related keywords, so it made sense to include them into my smart home post.
Pro Tip: Don't rush these first two steps. Go through and formulate your gameplan, then move on to the next step.
Generate a Blog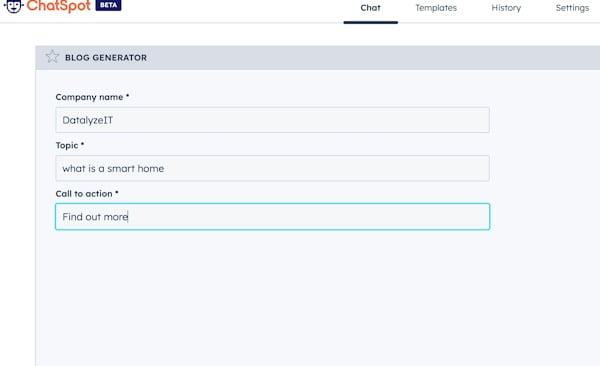 We've done all of the heavy lifting we are going to for these blog posts. Now, onto the fun part. Go to Templates, select Marketing, and select Blog Generator. Drop in your company name, one of your key phrases, and put in a call to action. That's 75% of the work done in one click.
Pro Tip: Don't just copy and paste the result into your blog. Use it as a framework to whip out your own take on the content, adding personality and passion. No one likes canned AI content, least of all search engines.
Incorporate Related Keywords

[Optional]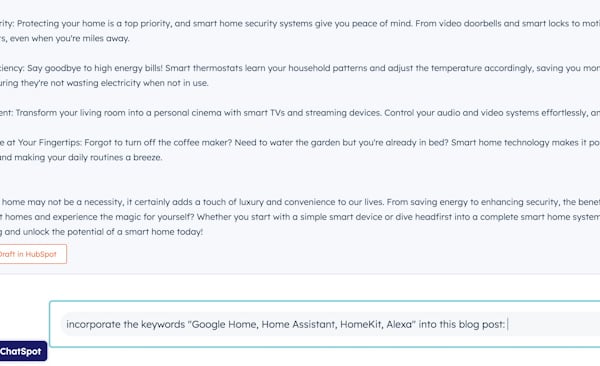 Most of the time, your content will be good enough for you to refine. It may make sense, however, to take your keyword list and have ChatSpot add them to the blog that has been written. Copy the blog and tell ChatSpot to "Incorporate the keywords [past your keywords here] into this blog: [paste your blog post here]." ChatSpot will recreate the blog with your original keyphrase, adding in content related to your relevant keywords.
Pro Tip: It may not always be pretty, and may come across as shoved in as an afterthought, so feel free to experiment with the number of keywords, or ditch them altogether.
Blog Title Generator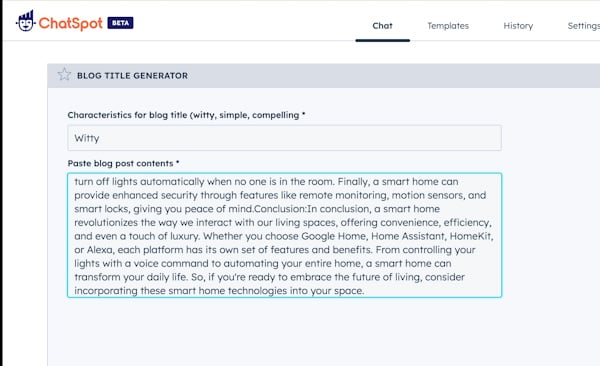 Most of the time, the blog generator will create a title for you, but sometimes it won't match the voice of the revised content. You can go to Templates, Marketing, and Blog Title Generator to remedy that. If you've made it this far in this post, you can probably tell that I tend to lean towards education with more than a splash of wit. In my example, I asked ChatSpot to come up with a witty title for my blog. You can choose your voice, then make sure you post the entire blog post into the Paste Blog Post Content field.
Pro Tip: Feel free to experiment with different characteristics for your blog title. You never know what may jump out at you.
Generate Images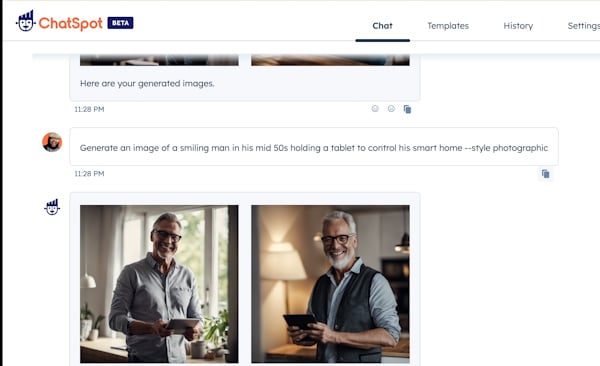 This is easily my favorite part. Go to Templates, Images, and look at the different styles available. Most people default to Photographic Style, but I know someone who exclusively uses Pixel Art style, because it aligns very well with their brand standards. Once you choose a style, experiment with a general description you want to see in your photo, and get more descriptive as you drill down on what works for you. I started with a man using a tablet, and ended up with "A smiling man in his mid 50s holding a tablet to control his smart home."
Pro Tip: While your blog post can be copyrighted after you revise it, according to a recent US District Court ruling your AI generated artwork cannot be.
[BONUS]

Create draft posts in HubSpot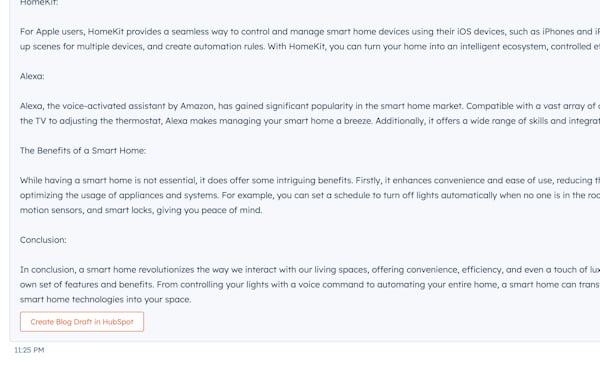 Normally, you would have to copy everything over to a new draft blog post from a Word or Google Doc into your CMS. If you are using HubSpot, you will see a button at the end of your generated post that says Create Bog Draft in HubSpot. This will create a draft blog post directly in HubSpot for you to immediately get started on revising and formatting.
Pro Tip: You can use Content Assistant directly in your HubSpot draft post to Rewrite, Expand, Shorten, or Change the Tone of highlighted content.
Once you get past the first two steps, you'll find yourself flying through the remainder of the process. Personally, blog content is the least favorite part of my job, but ChatSpot has made my life SO much easier since I started incorporating it into my workflow. Feel free to give it a test drive by heading to ChatSpot.ai and see if you can't ramp up your blog quality and output.
---
About the Author: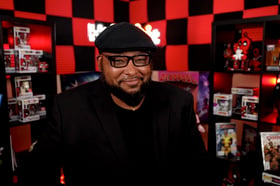 Ever since Devyn Bellamy created his first website during the dial-up days, he have always been obsessed with marketing. Reverse engineering the marketing strategies of multi-billion dollar companies has been his hobby for a number of years. Devyn's favorite thing to do is watch the rise and fall of trends. Remember when every company would send you a CD in the mail, with AOL leading the way?
Now Devyn makes comprehensive marketing solutions come together forHubSpot. He can create and grow every aspect of a brand's marketing funnel from the first touch to sale, and beyond. Yes, there is marketing beyond the sale. He is also a pretty decent multimedia producer. His work has been on television, billboards, radio, and signage.
Oh, and he is pretty good at using HubSpot.