After a brief hiatus post-INBOUND, we're back with ChatSpot updates. This week, we've got a major update that delivers a wealth of knowledge to ChatSpot powered by HubSpot Academy, improved access controls for HubSpot account administrators, and a few additional quick hit improvements to templates and error responses.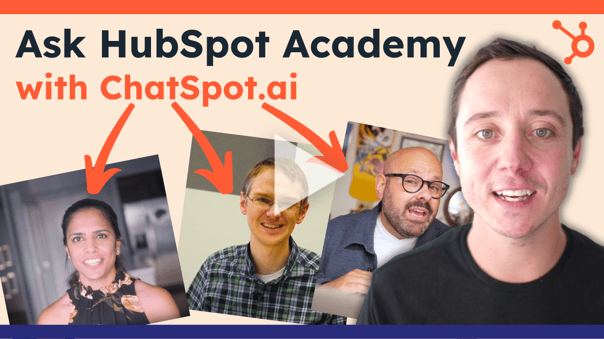 🎓 Ask HubSpot Academy - This update's highlight is a collaboration between ChatSpot and HubSpot Academy, we've connected ChatSpot's natural language interface with Academy's rich repository of knowledge. You can now ask ChatSpot any sales, marketing, service, or support question and effortlessly be delivered both and answer and a direct link to the source to dive deeper on a given topic. With over 6,000 indexed videos encompassing 600+ hours of content created by seasoned Academy professors, the new feature, Ask HubSpot Academy, is a gateway to actionable business insights. HubSpot Academy offers quick, practical courses to comprehensive certifications, helping you learn everything you need to know about the most sought-after business skills. With this update, the corpus of Academy knowledge is easier than ever to access- simply type "Ask Academy:" followed by your question...you essentially now have dozens of Academy Professors sitting by your side at all times.

Here are a few examples to get you started:
"Ask Academy: what key competencies and strategies are required to be an exceptional customer support rep?"
"Ask Academy: how do I put a flywheel in practice at my organization?"
"Ask Academy: how should I consider using WhatsApp in my sales strategy?"
Template Based Access Control: Admins of HubSpot accounts now have more granular control over how their teams can use ChatSpot when connected to their HubSpot account. By specifying specific prompt categories that can be accessed by users, admins can ensure that AI usage aligns with organizational protocols. This feature is particularly beneficial for organizations looking to gradually integrate generative AI, enabling a phased deployment to ensure security and compliance.

Quick hits



Added two new prompt templates - 'Blog Title Generator' and 'Modify Content Length' to simplify content creation.
Improved contact duplicate detection - Previously, creating duplicate contacts via ChatSpot would result in an error. Now, we'll provide you with a bit more details and allow you to take action directly on the existing contact record.

Finally, if you're interested in learning about the depth of possible ChatSpot use cases, our HubSpot YouTube channel will be creating pro-tip videos and sharing them there. The first deep dive highlights

how to use ChatSpot to save time creating YouTube content.
We're working on so many new things, but this new integration with HubSpot Academy, in particular, opens up a vista of knowledge, making ChatSpot not just a tool but a companion in your business growth journey. As we continue to explore new frontiers, stay tuned for more updates, and happy ChatSpotting!