INBOUND 2023 was incredible to say the least. Four days jam packed with thought provoking and inspiring sessions that were extremely energizing. It was great seeing so many attendees at the "Meet ChatSpot" session on Thursday morning, there wasn't an empty seat in the house! For those of you who missed the session, looking to watch it again, or share it with a teammate who couldn't make it...here it is: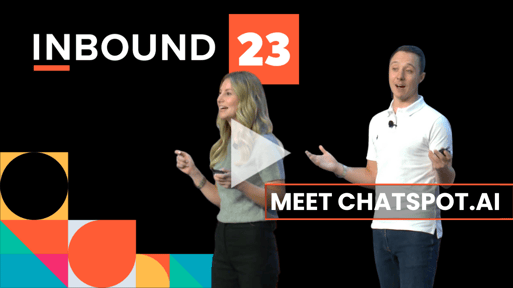 In this 30 minute session we covered so much of ChatSpot's features, functionality, and some of the most valuable flows for handling all of your business needs. Here's the run of show if you're looking to jump around:
Why ChatSpot (0:00) - Jennifer Stone highlights ChatSpot's value proposition and positioning as your AI powered business assistant.
How ChatSpot works (3:15)- Take a peek behind the curtain to see what's happening when you send a prompt to ChatSpot and see how it generates differentiated results, built for businesses.
Privacy, Security, and Account Level Controls (6:00) - See how you can administer ChatSpot and the various forms of data protection you have in terms of ChatSpot's relationship with your HubSpot data.
ChatSpot for Marketers (9:00) - Watch how ChatSpot brings SEO, content generation, writing styles, and image generation - all under one roof.
CRM Command Line (14:45) - A demo of how ChatSpot can be used to access and modify data in your CRM using natural language.
Prospecting Power Tool (18:30) - A complete rundown of the full suite of prospecting prompts available to help you find good fit prospects faster than ever before.
Sales Assistant (22:00) - See how ChatSpot can make selling even more personalized leveraging multiple prompt templates, from funding rounds to YouTube summaries that can help you generate the perfect outreach email.
Business Analyst (25:40) - A rapid fire walkthrough of ChatSpot's prompts that can deliver insights on the performance of your business based on the data points that matter most.