ChatSpot, meet HubSpot. HubSpot, ChatSpot. These two have been friends for a while, but it's time to take this relationship to the next level. This week's ChatSpot updates all revolve around a deeper connection with your HubSpot CRM. It's now easier than ever to access ChatSpot's AI driven insights in your flow of work, and create new visualizations with your HubSpot data. Keep reading or watch the video below for the full rundown on this week's ChatSpot updates.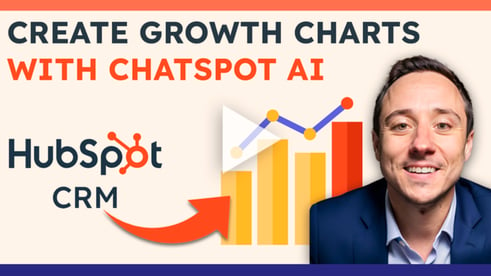 ChatSpot Actions From CRM Records - In last week's update, we introduced the ability to summarize CRM Records from ChatSpot. This is convenient, but we've taken things a step further and introduced these ChatSpot actions directly from the CRM record. Now, directly from Contacts, Deals, and Tickets you can ask ChatSpot for a summary. On Company records, you can ask ChatSpot for both a summary and News for that company.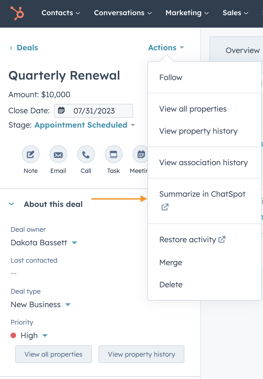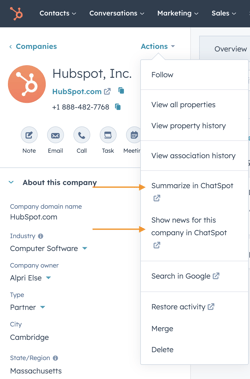 Create Bar Charts with Contact Data - We're introducing a new type of data visualization directly into ChatSpot. There is now a new prompt template under the "Reporting" category that allows you to create bar charts displaying your contact growth over time. With ChatSpot, simple reporting has never been this easy, simply provide your desired timeframe and a bar chart will be generated for you instantly. Currently, bar charts are only supported with contact data but we hope to expand this to other objects over time.
Access ChatSpot from anywhere in HubSpot - Our 3rd update this week improves the ability to access ChatSpot directly from your CRM. Now, from any page in the HubSpot CRM, you can click your avatar in the top-right of the navigation and there is a direct link to your connected ChatSpot.ai account. With this link, you'll be automatically logged in to your connected hub and can start chatting right away.

These updates are just the beginning of a long and fruitful relationship between ChatSpot.ai and the HubSpot platform.